Irish passport Photographs Sheffield
Our Address
11 Rectory Road
Clowne
S43 4BH
01246 810453
Opening Hours
Monday 10am-5pm
Tuesday 10am-5pm
Wednesday 10am-5pm
Thursday-Closed
Friday 10am-5pm
Saturday 10am-4pm
Sunday-Closed
Irish Passport photo requirements
If you need to send in photographs for a passport application, make sure they meet all the rules to avoid delays in your application.
You must send 2 identical photos when applying for a passport.
Download the official photo guide PDF here
If spectacles are worn the eyes must be clearly visible
2 identical recent photos are needed
The passport photos must be no more than 6 months old
In the case of babies, no visible support must be seen
Irish Passport photo requirements state that no teeth be visible
You must have a neutral expression and you must nor smile
Face and shoulders must be in the middle for Irish Passport Photos
Irish Passport Photos must have natural skin colour
The length from chin to crown of head must between 32mm to 36 mm
The minimum photograph size is 35mm x 45mm : Max size is 38mm x 50mm
There must be no shadows on the face or background in Irish Passport Photos
Photos must be taken against a plain, uniform, white or light gray background
Black and White or colour is acceptable
No red eye is allowed in Irish Passport Photos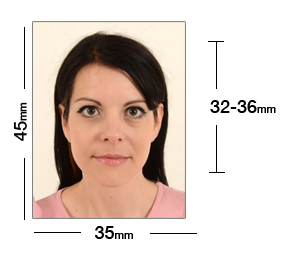 4 Copies are £7.95 and ready while you wait.
---
---
---