Australian passport Photographs Sheffield
Our Address
11 Rectory Road
Clowne
S43 4BH
01246 810453
Opening Hours
Monday 10am-5pm
Tuesday 10am-5pm
Wednesday 10am-5pm
Thursday-Closed
Friday 10am-5pm
Saturday 10am-4pm
Sunday-Closed
Australian Passport photo requirements
If you need to send in photographs for a passport application, make sure they meet all the rules to avoid delays in your application.
You must send 2 identical photos when applying for a passport.
Your passport photos
You must provide two recent identical colour photographs of yourself with your completed passport application. One of these photographs must be endorsed by your guarantor with the words "this is a true photo of (insert name)" unless you are submitting an application for a passport renewal using form PC7.
For technical advice please read the Camera operator guidelines
Photographs must be no more than six months old.
Warning: Unacceptable photos will delay the processing of your application.
The Australian Passport Office does not approve photograph outlets or photograph providers.
The following guidelines will help you provide suitable photographs, so that your application is not delayed by having to submit new photographs in the required format.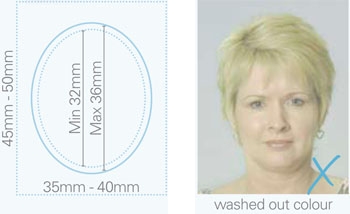 Your photograph must be between 35-40mm wide and 45-50mm high. It should show your head and top of shoulders close up, so that the face measures between 32mm and 36mm from the bottom of the chin to the crown (ie top of head without hair).
General requirements
Good quality colour, gloss prints
Plain, light-coloured background (e.g. cream, pale blue or white)
Appropriate brightness and contrast showing your skin tones naturally
Uniform lighting (no shadows across or behind the face)
Clear and sharply focused image.
The photograph must:
Be taken with a neutral expression and your mouth closed (not laughing or frowning
Show your shoulders square on (not looking over shoulder)
Show your face looking straight at the camera, not tilted sideways or up or down
Show the edges of your face (hair out of face)
Show your eyes open and clearly visible, (nothing obscuring eyes, including hair)
Not show any shadows or 'red eye'
Not show any reflections on glasses or face
Have no ink or other marks
Show no head coverings (except for religious purposes).
Head coverings
The photograph must show you without any hat or other head covering.
However, if you wear a head covering for religious reasons we will accept a photograph of you wearing it, but your facial features from bottom of chin to top of forehead and both edges of your face must be clearly shown.
Glasses
It is preferable that you do not wear your glasses in your passport photo. However, you may do so if you wish. If you do choose to wear glasses:
They must show your eyes clearly
There should be no flash reflection off the glasses
Lenses should not be tinted
Heavy framed galsses should not be worn
Frames should not cover any part of your eyes.
Note: SmartGate, the automated border processing system, uses facial images contained in the passport to verify the passport holder. It is important that passport holders present themselves close to how they appear in their passport photograph i.e. with or without glasses.
Children and babies
The photograph should show the baby or child awake, looking straight at the camera with mouth closed and nothing covering the mouth.
It should also show both edges of the face clearly (no toys, blankets, chair backs or other people visible) and no hair across the eyes.
4 Photographs are £7.95
---
---
---